Towards the end of last year, Estonian reserve officers acknowledged the country's defence forces' best service members with the Officer of the Year and Non-Commissioned Officer (NCO) of the Year awards.
By: Lieutenant Commander Ingrid Mühling, Estonian Defence Forces/CIOR Public Affairs
The prizes were awarded to Major Viljar Niinepuu and Sergeant Major Ivo Petjärv. Major Niinepuu has served in the Estonian Defence Forces (EDF) since 2004, and has contributed considerably to officers' education at the Estonian Military Academy; Sergeant Major Petjärv joined EDF in 1999, and has served in numerous international military operations, as well as developed a veterans' support system.
Photo: Reserve officers Major Seli and Lieutenant Colonel Luman, together with Lieutenant General Herem, giving the award to Sergeant Major Petjärv.
By tradition, the awards were handed out on EDF´s anniversary date in November. Chief of Defence, Lieutenant General Martin Herem, presided over the ceremony, joined by other general and flag officers of EDF.
Reserve officer initiative from 2004
The National Defence Foundation was established in 2004 by reserve officers who are also members of the Chamber of Commerce, to support the country's defence forces and recognise outstanding servicemen.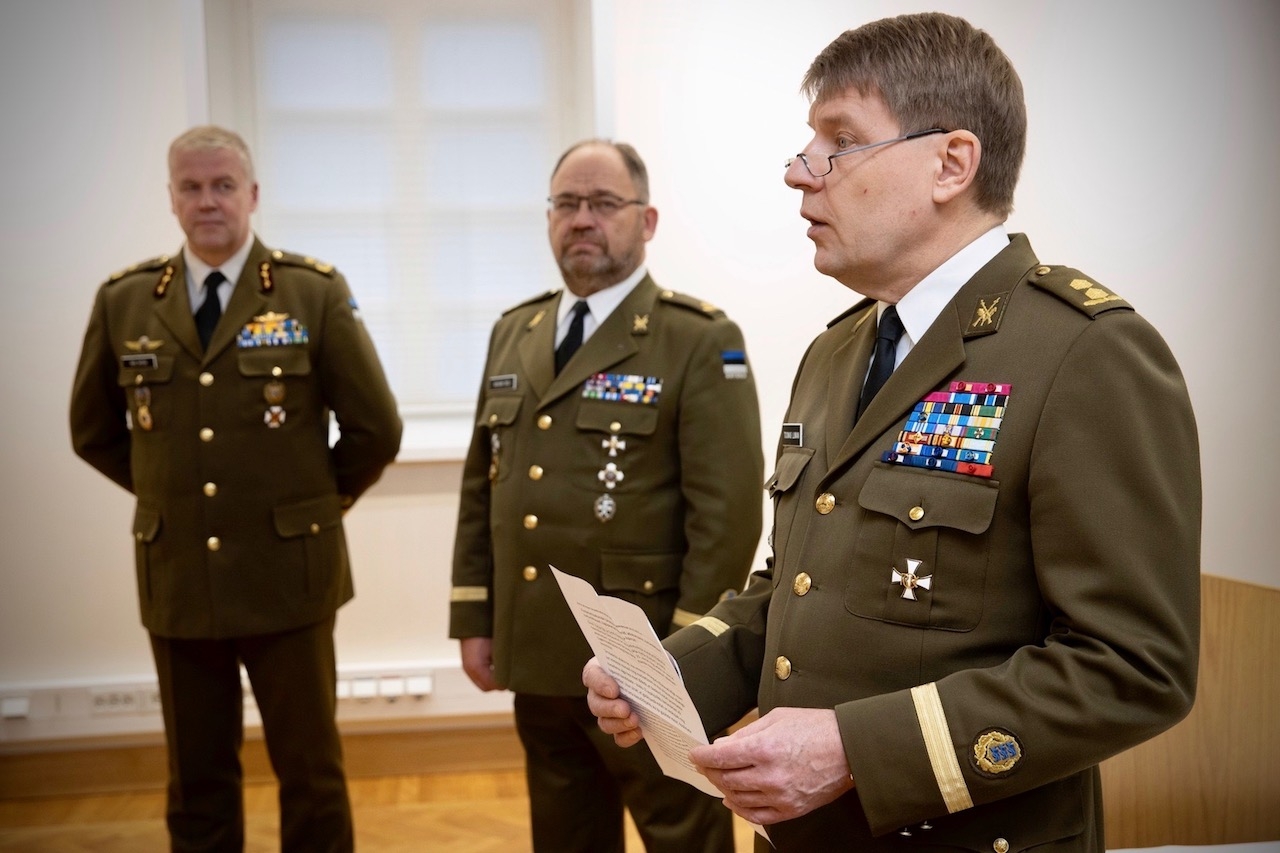 Lieutenant Colonel Toomas Luman speaking at the award ceremony.
– Outstanding role models
Lieutenant Colonel Toomas Luman – founder of the National Defence Foundation and chairman of the Chamber of Commerce, said that Major Niinepuu and Sergeant Major Petjärv are both excellent service members and outstanding role models.
– Their exceptional service and continuous desire to learn has inspired both military and civilian colleagues, students and everybody who has worked together with them, Luman said.
All candidates to the reward were nominated by their units, and the winners were selected by a board consisting of some of the country's most respected officers and NCOs.
The National Defence Foundation is the oldest and largest private initiative to support the military structures of Estonia. Besides recognising the best servicemen, the foundation has donated computers and IT-equipment to EDF, and supported IT- training of service members and volunteers.
This was the 15th time the prizes for best officer and NCO were awarded.
Officer of the year, Major Viljar Neenepuu, receives the award from the Estonian Chief of Defence, Lieutenant General Martin Herem.